It's almost time for the Party!
DATE: March 1st, 2011 – March 8th, 2011
TIME: Starts at 12:01 am on 3/1/11- Ends at Midnight on 3/8/11
Will you join me in this grand event?
Hosted by my dear friend Lynnette..
Isn't that the prettiest Blog Button out there?
So... What's a Blog party?
I am so glad you asked..
.
Come back here on Tuesday, and read
my answers to some very curious questions!
THEN...
Leave a comment,, answering some questions yourself,,
and Click on the Pretty Blog Party Button ..
and you will go visit Lynnette too!
From there...
you will meet all kinds of new people at the party!
It really is fun, and I KNOW you will love meeting the new blogs out there...
BUT....
That is not all...
What'a a party,,, without Prizes?
Link up to the party all week, and see the AMAZING, SPECTACULAR
PRIZES over at Lynnette's!
I am still in AWE!
Sooo...
ON Tuesday...
Stop back here...
and Join the Party!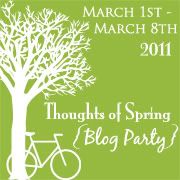 Labels: Blogging World