Those Familiar Things!!!!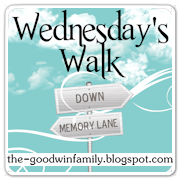 A Walk Down Memory Lane to a Place I Miss and Enjoyed so Much....
I awoke two days ago in my own home to a familiar thing...and this is what I began to remember:
Toast in the toaster...warming the senses
Wind-chimes blowing on the porch
Flag blowing in the wind after being carefully raised with large and tiny hands
Coffee perking on the stove... Tea whistling right beside
Newspaper folded open on table... good and bad news waiting the reader
Warm Dish soap filling the sink... rubber gloves adorning the gentle, protected hands
Glass Pitcher with fruit etched on glass, brimming with frothy Orange Juice from the blender
Doorbell ringing.. in repetition... greeting those that come to break the morning dawn with toast and coffee
Small round table - gathered with family and smiles
Familiar - The senses come alive and the re-creation of even one. Toast darkened on both sides.
Life at my Grandmother's Home - almost every morning.
What are Your Familiar Things?
Click on the Button above to visit Jenilee and her Walk down Memory :Lane. Thank you Jenilee for hosting this every Wednesday.
Labels: My Wednesdays Walk